When I
drew this
I knew I was going to want to make a vector version of it and make a wallpaper. I was originally going to do it all in Illustrator but I saw this fantastic wallpaper on
Pixelgirl Presents
and so it went in a different direction. Kind of experimental.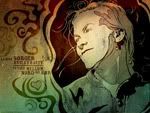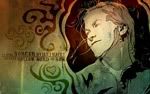 wide:
1920x1200
•
1680x1050
•
1440x900
•
1280x800
full:
1600x1200
•
1280x960
•
1152x864
•
1024x768
Technical:
Illustration by me, based on a photo I took. LiveTraced the illustration in Illustrator with minor cleanup. Texture by me, courtesy of the office fire (smoke damaged file folders = yay). The text is Norwegian, meaning "Let your sorrows rest at sea • Somewhere between north and south". It was chosen randomly - I was listening to the new Leaves' Eyes album
Njord
(they are a Norwegian group) and I thought some foreign text might look good in there, and since its easy to verify the translation on lyrics I went with that. Its a line from the song "Ankomst", used without permission, of course.