I don't generally do requests because I end up being really flaky about getting the piece done. But every once in awhile an idea really strikes my fancy and it not only jumps ahead in the "To Do" queue, it actually gets done!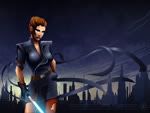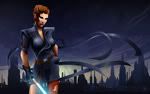 widescreen
:
1920x1200
•
1680x1050
•
1440x900
•
1280x800
fullscreen
:
1600x1200
•
1280x960
•
1152x864
•
1024x768
•
800x600
About
It is based on an alternate universe for
Star Wars
, a "what if" deal: what if Leia led the Empire or something (I think this is based on
Star Wars: Infinities
- look at me, I don't know what I am drawing!). ;) I had the composition in mind well before I started. This is my first figure construction I have done from scratch in
years
- ugh, I should of hired my friend Ash or Hemisphere for it! Anyhoo, I made up my own costume based on the comic version and some other artist's version. Sketched in Photoshop CS3, drew everything/colored in Illustrator CS3, brought it all back into Photoshop to do shading and add textures. The stars and clouds are all my own textures. Took about 9 hours or so.