Finally! A Jo wallpaper! Based on a screencap from xxsaosinxx (Thanks!)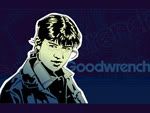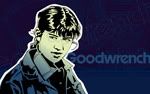 widescreen
:
1920x1200
•
1680x1050
•
1440x900
•
1280x800
fullscreen
:
1600x1200
•
1280x960
•
1152x864
•
1024x768
About This Wallpaper
Illustrator CS3, Intuos Wacom tablet, about 4 hours.
I'd had this idea for a Jo wallpaper for awhile, to theme it around her Blair-given "Mr Goodwrench" nickname-insult, in blues with mechanical stuffs happening. After the direction the previous Blair wall went in, I did this one in the same style (which, now that there IS a style, saved a LOT of time!). Stuck with the limited palette and masculine lines. Googled the Goodwrench logo and re-drew it in Illustrator (Live Trace did a lousy job) and found a nice motorcycle engine blueprint to Live Trace to vector and stick in the background. (I was originally going to use some of my Johnstone Supply catalogue illustrations instead since I feel like Live Trace is cheating but I really didn't feel like tracing my own engine. But they were more electrical oriented, not mechanical, so there you go).
I like this one a lot better than the Blair wall - I think it succeeds in its comparative simplicity - but then, as we know, Blair is superficially much more complex than Jo so I think it works. ;)