Maria-Sama ga Miteru
("Marimite" for short) is a shoujo anime that was recently licensed in America (finally). It follows a group of girls on the student council at a Catholic girls school and is basically about their friendships and their character development. There's no action, no traumatic events - just minor high school drama with a lot of heart, no big plots, and tons of character development. ;) As a fan, I take the opportunity to practice my Adobe Illustrator skills by making wallpapers. Here are the three latest, all Marimite themed: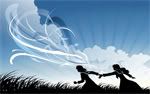 I had the image of this wall in my head when I woke up one morning - a wind-swept hill with clouds and people running along. Done in Illustrator CS1 with a bit of masking done on the rays in Photoshop CS1, the only thing I didn't create myself are the decorative swooshes in the sky, which were by
Bittbox.com
. I did the clouds twice, the first time with too much detail that left me unsatisfied, which is when I decided to try swooshes. I am particularly proud of the grass on this one.
Widescreen:
1920x1200
•
1680x1050
Fullscreen
:
1600x1200
•
1280x960
•
1024x768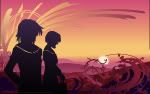 Done completely in Illustrator CS3, 5 hours. This second wall I am the most happy with as it has the best sense of mood and most interesting composition. I generally start out a wallpaper with a color in mind and this was originally to be sunset orange with a silhouetted tree-covered hill. Immediately the sunset went pink & yellow and I didn't ever get to the silhouetted hill once I found a good reference picture that had hills instead. I had major color space issues on this wallpaper so what you see is not quite what I had originally created - yet one more reason I am a print person, not a web person. ;) Long story short, working on a Mac, and not in the right RGB space (sRGB IEC61966-2.1).
Widescreen:
1920x1200
•
1680x1050
•
1280x800
Fullscreen:
1600x1200
•
1280x960
•
1152x864
•
1024x768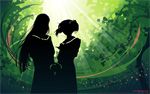 Done completely in Illustrator CS3, 7 hours. Again, I started out with a color (green), which to me means plants. While all the walls were experimental, the first two were a bit more "safe" in that they are set in a wide-open landscape where this one is cloistered in the woods. It is much easier to place things compositionally against a wide open sky than it is to build a particular setting so this piece was a bit tricky and I feel loses its sense of mood. At any rate, it was a great chance to try getting the opening in the leaf canopy created and to try out creating rays of light. At first the grass was dark and in the foreground but when I took it away everything looked better. In the end I put it back in and pushed it back because, as a friend pointed out, it reminds us of the layered nature of a forest setting.
Widescreen:
1920x1200
•
1680x1050
•
1280x800
Fullscreen:
1600x1200
•
1280x960
•
1152x864
•
1024x768
I think I will do more, perhaps in other fandoms as well. The fun thing about keeping them entirely vector is that they are infinitely re-sizeable for print, unlike most of my previous walls which were built at 72ppi. I also really enjoy the practice in Illustrator- it has always been my favorite program but it is more technically challenging to learn. I never learned how to use gradient meshes in college or any of the other fancy stuff Illustrator can do so I am trying to push the limits on what I DO know how to do and I am discovering little bits as I go along. :)