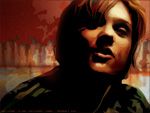 digital illustration
Adobe Illustrator & Photoshop
September 9, 2006
Hallalundi said she'd kick my ass if I didn't participate in the 2006 Teryl Rothery contest, a fan art/fan fic contest put on by Terylicious.net. So, not wanting my ass to be kicked, I participated. Which was good because I hadn't done a digital illustration in over a year.
Teryl photo from http://terylicious.net/. Other photo textures from myself and
Deborah Schildt
I did it for print, so the original (not online) is 300dpi at 20" wide. I made it in widescreen monitor dimensions so it would be easy to downsize for wallpapers. For the curious, this was done in Adobe Illustrator and Photoshop CS and took about 9 hours to complete. I drew all the shapes in Illustrator, then imported the paths to Photoshop where I colored them each individually, airbrushed/blended areas, and added details (hair, shine) and textures. The only filter used was Gaussian Blur on the background. I'll put together a quick visual walkthrough in PDF format sometime later today.
Wallpapers
1024x768
1152x864
1680x1050
(widescreen)